1993 Grand Banks 42'
Boat Name: "EASY RIDER"
EASY RIDER is a 1993 Grand Banks 42 Classic currently available for sale in New Rochelle New York. This boat has a price of $250,000 Our team at Seattle Yachts is here to help you find the right boat for your needs, budget, and style. We have access to boats off the market that will never be seen online so contact us today with your interest.
Price: $250,000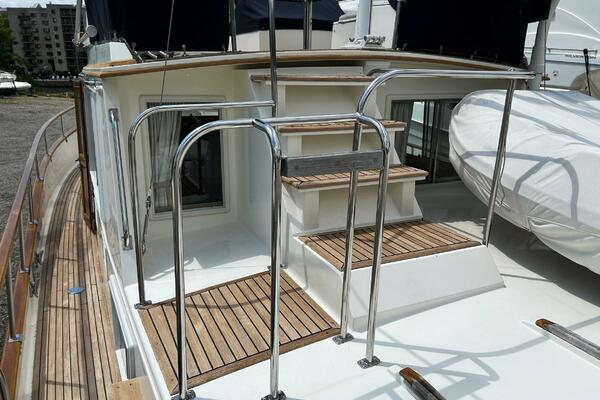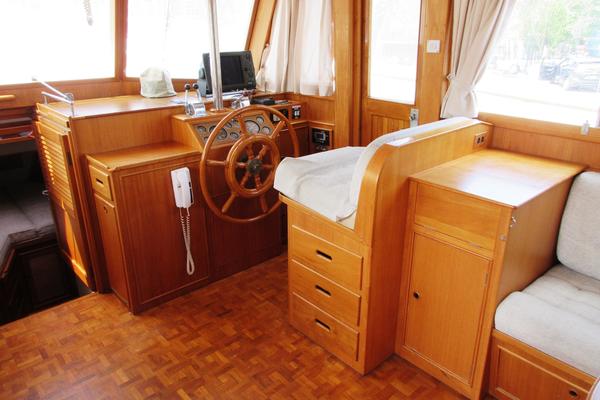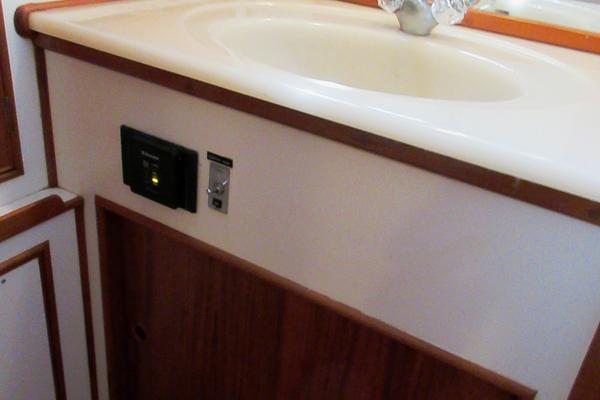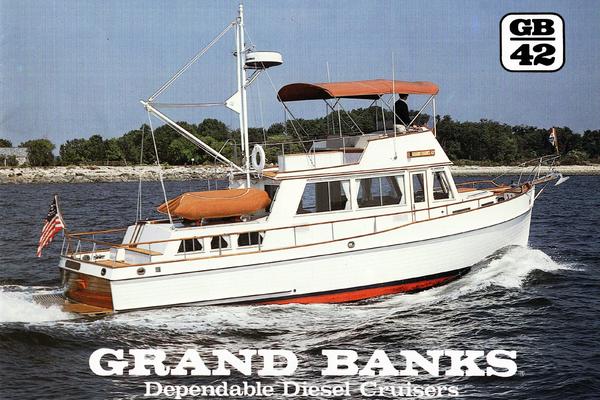 SPECIFICATIONS
| | |
| --- | --- |
| Price: | $250,000 |
| Boat Name: | EASY RIDER |
| Make: | Grand Banks |
| Model: | 42 Classic |
| Year: | 1993 |
| Condition: | Used |
| Category: | Trawlers |
| Construction: | Fiberglass |
| Length: | 43 ft |
| Display Length: | 42 ft |
| Beam: | 14 ft 1 in |
| Max Draft: | 4 ft 2 in |
| Min Draft: | -- |
| | |
| --- | --- |
| Fuel Capacity (Gallons): | 600 |
| Fuel Type: | Diesel |
| Fresh Water Capacity (Gallons): | 264 |
| Max Speed: | 17 kn |
| Displacement: | -- |
| Number of Engines: | 2 |
| Engine Make | CATEPILLAR |
| Engine Model | 3208TA |
| Engine Power | 375.00 HP |
| City: | New Rochelle |
| State: | New York |
| Country: | United States |
The EASY RIDER is a 1993 model GRAND BANKS 42 Classic trawler. Produced by AMERICAN MARINE LTD of Singapore, the EASY RIDER is Hull 1280. She has the modified GB 42 hull for an enhanced volume that was introduced in 1991 and the Factory Option CATEPI LLAR 3208TA engines that are rated at 375 HP. With these engines, she'll cruise in the 14-15 knot range and has a top end at W.O.T. at some 17-18 knots.
The EASY RIDER has the preferred "Island Berth Aft" and the "Salon Helm Seat" GRAND BANKS optional interior layout features that were available for the GB 42 Classic in this model year. Lightly used over the past (30) years, she has only some 1670 engine hours logged to date! Her overall condition, to include her teak decks, is judged to be above-average for a yacht of her vintage. There are no leaks in evidence below and that's a huge "plus" for yachts of this level of quality interior joinery.
The EASY RIDER has just been launched and is in full commission and ready for the 2023 Season. Her Spring work included, but was not limited to, fresh bottom paint & zincs, exterior cleaning & waxing, teak deck cleaning, interior detailing and exterior varnish work. The exterior "June 2023" photos show her just prior to her launching.
The EASY RIDER is offered for brokerage sale this Spring as the Owner's plans for her use have changed for 2023. Clearly well-maintained, she's nicely-priced for a quick sale. Appointments to schedule a viewing for the EASY RIDER are certainly encouraged for clients who are in the market for a better example of this classic cruising yacht.
Seattle Yachts is pleased to assist you in the purchase of this vessel. This boat is centrally listed by Brewer Yacht Sales. It is offered as a convenience by this broker/dealer to its clients and is not intended to convey direct representation of a particular vessel
The GRAND BANKS 42 is constructed with a solid hand laid-up laminates of alternating layers of fiberglass woven roving and mat. There is an extended keel assembly for enhanced tracking stability and protection for the yacht's running gear.
For the 1991 model year, the GB 42's hull was slightly modified to provide additional interior volume. The LOA was increased to 43'3" from the prior 42'7". The beam was increased to 14'1" vis the prior 13'7".
The overall topsides finish for the EASY RIDER is well above average if not "superior".
WHITE Gelcoat topsides finish
DARK BLUE Boot-top
MEDIUM BLUE Bottom paint (note: painted, Spring 2023)
Bow pulpit, teak & fiberglass w/ (2) anchor rollers, stainless steel
Teak bulwark cap & safety rails, varnished
Rub rail, fiberglass w/ stainless steel striker plates, full-length
Hull lower rub rails aft, port & starboard, fiberglass w/ stainless steel striker plates
Hull spray rails forward, fiberglass (note: GB Factory Option)
Swim platform , teak w/ bronze supports, stainless steel striker plates
(2) Transom steps from Swim Platform to the Transom boarding gate, teak
Teak planking for Transom, varnished
Name board, teak, varnished
Bronze & MARELON thru-hull fittings throughout
Keel for tracking stability & protection for the props, shafts & rudders
Hard chines for increased roll stability
Deck
The EASY RIDER has the standard GRAND BANKS teak decking. The decks have been well-maintained and are in well-above average condition for a yacht of her vintage.
The yacht's Factory Option Stainless Steel Package is all of the preferred 316-grade for enhanced strength and corrosion-resistance.(note: package for cleats, deck fills, hawses, striker plates, scupper drains, hatch hinges & latches, gates hinges & latches, dinghy supports)
WHITE Gelcoat finish
Balsa-cored decks & superstructure panel areas
Teak decks (note: for Foredeck, side decks, Cockpit & Flybridge)
Bow pulpit w/ stainless steel rails
(4) Upper safety rails on Cabin superstructure, stainless steel
Stanchions, stainless steel w/ teak rails
Rail Height: 34" to 33" (note: deck to top of teak railing, Foredeck to Aft Deck)
Lifeline gates, port & starboard w/ upper hinged teak rails
Gate for Transom door, hinged teak
(2) Hand rails on Foredeck / Cabin top, stainless steel
(2) Trail (name) boards forward on the cabin superstructure, teak & varnished, port & starboard
Deck hatches, LEWMAR, aluminum-framed
(8) Cleats, stainless steel
(8) Hawses in bulwarks for lines
Chafe plates at hawse locations
(2) Flagstaff holders, bow & stern, stainless steel
Built-in GB deck box, forward of Cabin trunk, w/ teak top, teak interior grating & stainless steel brackets for fenders
Cockpit
Lazarette storage locker, large w/ dual hinged opening lids
Teak grating in Lazarette locker
Transom boarding w/ gate, hinged teak
Swim ladder, (3) steps, stainless steel & folding w/ teak treads (note: located on the Swim Platform, port side)
Teak decking
Door & integral sliding hatch access to the Aft / Master Stateroom
Aft Deck
The GRAND BANKS 42 Classic has an aluminum mast w/ boom that can be folded down for a
reduced waterline height of approximately 14' vis about 22' 7" "mast up". The Bimini Top must be folded
down to achieve this reduced dimension as well. The mast was intended for use with a
steadying sail but that feature was rarely employed for the GB 42's. Now it functions well as a
radome mount, for flag & pennant halyards, the spreader / deck lights and so forth.
Air Draft: 23'6" with the mast "up" (note: by lowering the mast, it can be reduced to 15'8" to the top of the Bimini and about 13'3" to the top of the flybridge windscreen by lowering the Bimini top)
Mast, aluminum spar, spreaders & boom and with standing rigging, 1x19 stainless steel
Tabernacle aluminum base plate, for deck-stepped spar (note: mast installation designed for it to be raised & lowered to reduce air draft)
Boom for mast w/ 4:1 purchase block & tackle system for boom topping lift (note: mast provided for the use of a steadying sail & as installation mount for the spreader lights, nav lights, radar array, antennas & GPS)
(2) Preventer / trim lines for boom control w/ cleats
NICK JACOBSON CO. Crane for dinghy lift, electric w/ hand-held plug-in remote control
(2) Spreader lights, Nav lights & flag halyards installed on mast
Boom crutch support, removable
Dinghy support brackets
Outboard motor bracket, teak (note: mounted on aft FB railing, starboard side
Safety rails for steps from Aft Deck to Flybridge, stainless steel
(2) Teak steps from the side deck, port side, for entry to the Aft Deck
Flybridge
Accessible via (2) steps on the port side of the superstructure from the side deck to the Aft Deck area and thence via (3) steps to the Flybridge.
PLEXI Spray shield
Grab / Safety rail for wind / spray shield
Bench seating, "L" shaped on starboard side & bench to port (note: provision for both "fore" & "aft" seating)
Stanchions, stainless steel & lifelines provide safety (note: 32" height from deck to top of rail)
Teak decking
Coverings for the seating cushions throughout, WHITE Vinyl, marine grade (note: in average but serviceable condition)
FB Table, teak, varnished & removable
Teak gratings for under all FB seats
Helm Station
The Upper Helm Station is located forward and to starboard.
Wheel steering, spoked teak w/ Destroyer-type stainless steel rim, 28" diameter
Cable & chain steering system
MORSE Engine controls
VDO Engine instrumentation (note: tachometers, engine coolant temperatures & oil pressures, alternator output voltmeters)
Alarm Panel w/ oil pressures, engine temperatures & gear box temperatures
Electronics displays (note: see "Electronics")
LOFRANS Windlass remote controls
DANFORTH Constellation High Speed compass, 6"
For more information on this yacht, please contact us..