The Modern Trawler Yacht Experience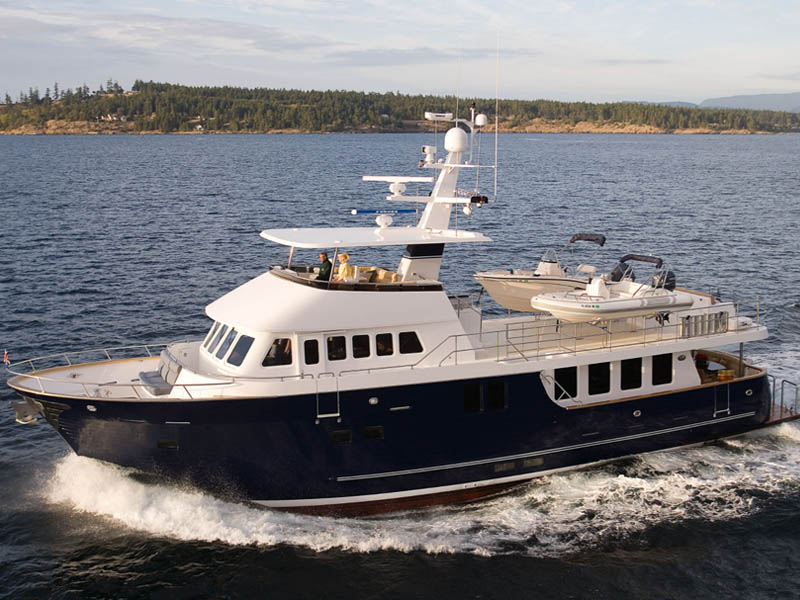 It remains a popular topic, as the evolution of the modern cruising boat continues at a record pace. The current demand for trawler-style cruising boats has never been as high as it is right now. There are several factors that contribute to this healthy and bustling segment of recreational boating. Some of these factors are directly attributed to world events, some relate to the Covid pandemic, while others represent the current demographics of our adult population.
It is no surprise that people want healthy alternatives to traditional, often sedentary leisure activities. And there is a growing generation of younger folks who desire experience over material possessions. They demand more contemporary interiors, easier to use systems, and more fun with less work.
Below are some answers to frequently asked questions about trawlers. If you are looking to sell or purchase trawler yachts for sale, please visit our Contact Us page and fill out the form with your information.
What Is The Best Trawler Yacht?
There was a time when the footprint of a traditional trawler was a boxy, single or twin engine, semi-displacement hull form that operated quite efficiently at six or seven knots. These trawlers cruised quite comfortably among the sailboats they shared most anchorages with. Sailor or trawlerman, the camaraderie was wonderfully compatible, the interests the same, a lifestyle enjoyed by all.
But times have changed, and one of the most telling elements of today's criteria is that people are no longer willing to accept a six-knot speed limitation. Most people want to have a wider range of performance available to them when they go cruising. Not willing to totally disregard the fuel efficiency of slower speeds, they demand engineering and hull shapes that provide a reasonable turn of speed (10-12 knots) while still delivering acceptable fuel economy. There is no interest in burning 60+ gallons per hour, with fuel bills exceeding $1200 every night at the fuel dock.
Interest today is for a cruising motorboat that either has an efficient, slippery hull to cruise comfortably in the teens with a single engine or which comes with twin diesel engines to provide that same performance in a wider, fuller hull shape with sufficient volume for comfortable accommodations, excellent storage, and ample tank capacities.
Is Nordhavn A Good Boat? What About Selene or Grand Banks?
In the 1990s, the standard of the power cruising community was either the semi-displacement Grand Banks , or the full displacement passagemakers characterized by the Nordhavn Yachts and Krogen production trawlers, and later the Selene Yachts line. Heavily built to safely cruise the oceans of the world, these yachts brought distant horizons within reach to many people who dreamed of world cruising, high latitude exploration, and spending time in faraway island groups. These capable boats helped turn the dream into reality. For those with more experience and larger budgets, semi-custom trawler yachts fit the bill even better, and builders such as Northern Marine brought an even higher standard of engineering and construction expertise.
But the attraction of world cruising has lost some of its luster, for numerous reasons. Changing weather around the world, political instability and turmoil, and concerns of global pandemic and personal safety have caused many to hit the pause button. Most people have scaled back their dreams to more realistic cruising destinations that do not require making long bluewater passages and crossing oceans. The characteristics that make a Nordhavn or other production passagemaker stand out, such as full hull shape, single engine, enormous fuel and water tankage, and heavily built construction, are somewhat counter to what is desired in a cruising motorboat today. The ability to go faster to reach destinations quicker, without requiring lengthy non-stop open water passages, and enjoying operating efficiency through advanced and lighter construction, are now preferred over the battle wagons of the past. Technological advances in systems, construction, and design now produce very capable cruising boats that achieve great performance through higher levels of engineering.
Does The Boat Fit Your Plan?
There is more to it than simply going faster, however. Many of the attributes that make a passagemaker ideal for crossing oceans may not really be as desirable for a couple looking to spend a winter in the islands or a summer gunkholing the Great Lakes, New England or the San Juan Islands. Chugging along the Great Loop does not require offshore design capability. That smaller aft cockpit, where high bulwarks are ideal for protecting the boat and crew from boarding seas, is not going to be as friendly a place to spread out teak chairs and tables for lounging with friends or use as a back porch when moored long term, with ready access to the dinghy. A large, covered aft cockpit is a more comfortable place to enjoy the world going by, but only if it is open and allows easy movement by crew.
Another element of bluewater boats are thick ports and windows, and dogged doors that are in sharp contrast to opening windows and sliding doors and screens. Which you prefer has a lot to do with where you are going. For six months leisurely exploring the coast, mostly in protected waters and calm conditions, there is hardly a choice. Opening windows, hatches, and doors offer much better ventilation options. But one would not want simple sliding glass windows and screens sitting in a slippery track when on a boat headed offshore where one wild wave could easily damage them.
I remember a Trawler Fest I attended on my power catamaran . It was a beautiful fall week with marvelous weather. I had many of my windows open to the breeze, which kept the interior bright, open, with plenty of fresh air. Many of our staff came over for drinks in the evening where we sat outside and enjoyed each other's company while reviewing the day's events. I later compared that to the offshore trawlers surrounding me on the docks, all buttoned up and needing to run air conditioning into the interior spaces. It was a remarkable contrast. If I really planned to go offshore, no question which boats I would rather be on.
But for exploring the East Coast, from New England to Florida, the Great Loop , or most other coastal area, I much preferred open windows and great ventilation to dogged hatches and saloon windows that are meant to withstand a rogue wave.
Is one better than the other? Of course not. It all comes down to where you are going to use the boat. Even in the rainy Pacific Northwest, I like the option of opening some windows when the weather permits. (One pet peeve of mine is the use of dark tinted glass for windows. Even when it is sunny outside, the view outside is always so threatening and ominous. I hate that.)
While having plenty of fuel and water is usually key to the happiness of a cruising trawler owner, keep in mind it is not necessary all the time. Instead of carrying around enough fuel to travel thousands of miles across an ocean, it may only be necessary to travel the 250 miles or so on the Great Loop from Port Charles to Paducah, Kentucky. Or remain on the hook for a week, running the generator when needed.
I already mentioned the number of couples interested in crossing oceans today is much less than in years past, and as I reported in (Insert link here-Going World Cruising-Not So Fast!), there are many factors why the world cruising scene peaked around 2010 and is now in decline.
However, for those who still hope to cruise exotic lands on their own boat, such as the Mediterranean or the Pacific, shipping one's boat across the ocean has gone mainstream. And compared to the significant expense of owning a vessel meeting the requirements to travel several thousands of miles safely at sea, the cost is reasonable.
Many later find out the boat they pick up after the yacht transport delivery is now much better suited to coastal and canal exploration, without needing the ocean-crossing fuel and water requirements, deep draft, full displacement, or tall superstructures. Those offshore elements become expensive overkill when viewing the contemporary design spiral for a coastal or canal cruiser.
Also Read: Buying And Owning A Trawler Yacht
What is the Difference Between a Trawler and a Motoryacht?
In any discussion there are the inevitable attempts to distinguish between what is a trawler yacht, when compared to the typical motoryacht . How to separate one from the other, and why is that even necessary?
Well, for one, the definition for a trawler is no longer as simple as it once was. I have long maintained that the word is now only a metaphor for a lifestyle and is best considered by what characteristics allow the yacht to go cruising rather than hop from marina to marina. That is a better approach to answering the question and is a more valuable exercise.
Think of the last couple of motoryachts you may have been aboard at a recent boat show. Full-size, domestic appliances, free standing furniture and artwork, and all the comfort and other systems that demand 24/7 shoreside power. And all the elegance of a gorgeous interior with modern decor and finishes. Who doesn't love the feeing of being aboard an expensive motoryacht?
But now think about the reality of cruising this boat. How will it handle rough seas? How well will the yacht work when one plans to anchor for extended periods? Is the ground tackle even close to the demands of a cruising boat? Heavy anchors and ground tackle are not what you will find on most motoryachts who are more likely to use a smaller lunch hook for an afternoon on the water than to get ready to weather a blow. A seriously sized set of anchors and ground tackle, and the windlass capability to handle them, is a necessary requirement of a cruising trawler/motoryacht. One cannot have too big of an anchor!
Most motoryachts have plenty of fixed windows and glass that do not open when the breeze is right. There are so many instances where I would prefer to turn off the air conditioning were it not for the midship stateroom accommodations that do not even have windows, let alone ones that open.
What's Important On A Trawler Yacht For Cruising?
Another huge consideration that defines a cruising powerboat is how accessible everything is on the boat. From seacocks and strainers to batteries, wiring, and electronic controls, the boats that depend on shoreside service technicians to resolve the inevitable issues are far less desirable than boats that allow owner access and DIY maintenance. To be fair, most boat builders know how their owners use their boats and build to accommodate those needs. Many owners just enjoy their boats during leisure time with friends and family and rely on their service techs to troubleshoot, repair, or replace any gear that causes issues from their last weekend cruise. That is a quite different scenario than an older couple who rely on themselves to both access and resolve the inevitable gremlins of cruising boats. This is especially true with older boats, and why I am a big proponent of getting as new a boat as one can afford. Everything is newer, from pumps to hoses to everything else.
Domestic appliances, air conditioning, and other systems collectively require a significant full-time power source, way more than can be provided by a couple of solar panels. That is why so many motoryachts remain connected to shore power unless their generators are running. Reviewing how a boat is set up electrically will determine its suitability for cruising.
However, many (most?) extremely capable expedition yachts are all-electric boats, meaning they rely on a bank of generators to keep what is essentially a small ship operating. Which is great as they are designed that way from the beginning. Most motoryachts are not so well set up.
It really comes down to the degree of self sufficiency designed into the boat. It will pretty much define the lifestyle the boat is best suited for. In the case of the trawler yacht, the boat will have the capability of staying fully operational away from shore facilities for some time, both in terms of fuel supplies and systems designed to keep working at anchor, under way, or at a dock, whether shore power is available or not. To be off grid on a well-equipped trawler yacht is a genuinely nice experience, without much compromise.
What Are The Best Small Trawlers?
The rise in popularity of the "pocket trawlers" proves demand is not limited to large boats. We now have 12VDC systems, including air conditioning, and lithium battery systems that allow longer time between running one's generator. The demands for fully equipped, smaller RVs by the experience-seeking generation has brought many benefits to the power cruising world, and this will only get better over time.
Among all other considerations is the concept of less work and more time to enjoy the experience. Lots of exterior brightwork is not considered desirable these days, nor are other finishes that come with a maintenance schedule. The boats that offer greater utility and less maintenance have become the most sought-after cruising boat choices.
So, again the question: Just what is the best trawler yacht? The answer depends on choices made by each couple, as they decide how many people are going on the boat, where they are planning to cruise, for how long, and what kind of budget they have.
Can A Trawler Cross an Ocean?
Can it be seaworthy enough to do so? Absolutely yes. And not just the mission-specific trawler yachts like Nordhavn and Selene. There have been many traditional trawlers and cruising motoryachts that made some serious crossings, such as DeFever, Monk, Grand Banks, Fleming , Endurance , and others, by owners who judiciously monitor weather systems (using a weather routing service is common these days), fine tune and thoroughly prepare boat systems, and by being extremely well organized. Many supplement fuel stores with bladders on deck.
Trawler Yachts are Great Cruising Boats!
So, there you have it. The trends of today speak to higher cruising speeds, in boats that are more contemporary. While the cost of a good trawler will be higher than a comparable sailboat of a similar length, there is a cruising motorboat to fit most budgets. And keep in mind that a smaller and newer trawler may be a better choice for you than an older, larger boat with aging systems and gear. There has never been a better time to go cruising. All you need is a plan, a good broker, and the desire to experience this relaxing and enjoyable lifestyle on your level and at your own speed. See you on the water.